During a workshop in Jelgava, Latvia that focused on the question "What is the right way to a sustainable future of a municipality?" Pots talked about municipal contribution to the national marketing and image. "Municipalities are the backbone of national marketing. It is no secret that overall Riga, also a municipality, is better known abroad than the whole Latvia. It is a fact that should be embraced and not get frowned upon. We must use it to our advantage – we must use it to market Latvia and its regions", said Pots.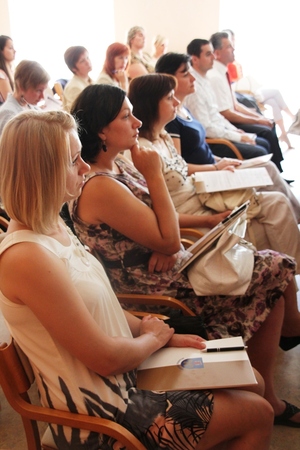 "We must change the 'nothing to see here' attitude to 'come and visit us' attitude. This affects the way Latvians see Latvia, the view foreigners have about Latvia, and ergo – the national image." What there is to see experiences the workshop participants, who came from Italy, Moldova, Poland, Norway, Germany and Rumania.
"The things we can do domestically are pretty simple – provide information, it is the single most efficient means of soft power, that doesn't require large amounts of investments. (...) The regions and the municipalities must find the quirky little things that make them unique and sets them apart positively", so Pots. One of these little things for example is the Bell Tower of the Jelgava Holy Trinity Church. Thanks to host Anita Škutāne, Trans in Form project coordinator in Jelgava Local Municipality, the international delegation got to visit this unique piece of contemporary history. The Church Tower offers an interactive and exciting historical exposition and in the top level the participants enjoyed to see the panorama of Jelgava from a sightseeing glass platform. Another spectacular experience was the visit of the Festival of Jelgava Municipality in the Eleja Manor park. Here, the guests witnessed ancient dance groups, tried the "Love Drink" of countess Dagmara and enjoyed a colorful fest that let them travel back in time. The hosts showed their immense potential and gained recognition for a fantastic concert with hundreds of singers and dancers who celebrated Latvian folk music.
For more impressions please visit the following pages:
http://www.zz.lv/portals/foto_video/raksts.html?xml_id=39372
http://www.jelgavasnovads.lv/lv/aktualitates_1/1706.html - pictures below the article
http://www.jelgavasnovads.lv/lv/aktualitates_1/1705.html
http://www.jelgavniekiem.lv/?act=4&art=26598 - press on the Galerija (54)
Pictures © Christin Schmidt