Tweet
During the meeting that was chaired by Bjørn Frode Moen, Norway ICN general secretary Alf S. Johansen introduced the annual report for 2012 and an activity plan for the year to come. The overall mission includes the focus on the set-up of a significant network that works for smaller communities in the northern European territory.
Main activities in 2013 will be the continuation of a strong new media strategy using the website as a platform to promote the network as well as regular newsletter and the usage of social networks such as Twitter and Facebook. The city of Suwalki, Poland has volunteered to host the annual event 2013. "We are eager to organize the event together with Alf Johansen", declared Ewelina Suchocka, reelected member of the board.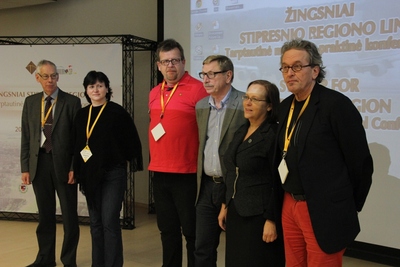 New and old chairwoman of the board is Rita Merca from Latvia. Together with Svein Åge Lauritzen, Norway, Ella Fridvalde-Andersone, Latvia, Bjørn Frode Moen, Norwayn and Michael Norén, Sweden(new deputy chairman) they form the new board of the Innovation Circle Network.
ICN members also discussed the continuation of regularly Youth Camps. Petra Biberbach, Chief Executive of the award-winning national charity, Planning Aid for Scotland suggested to organize the next youth event in Scotland. "The Year of Natural Scotland 2013 could be a possible theme, so Petra Biberbach. Stay tuned to follow events and new actions of the Innovation Circle Network and subscribe to our newsletter.
Pictures:
Top: Svein Åge Lauritzen (right) and Michael Noren (left)
Bottom: New ICN board from left to right: Arne Willhammar, Board Substitute, Ewelina Suchocka, Svein Åge Lauritzen, Rita Merca and Bjørn Frode Moen
Copyright: Christin Schmidt