"Waterways for Growth" project (with Telemark as a leader) puts up a video
Waterways for Growth is a project uniting countries around the North sea, taking place in the area from January 1st of 2009, lasting till 30th of June of 2012. The priority of the project is to promote sustainable and competitive communities. Telemark in Norway, which is also a partner of IC Network, is also involved in the project, being a leader for Business and Product Development.
Briefly, the project was created to take forward opportunities afforded by recreational inland waterways for the development and realisation of business opportunities and creating attractive places near where people live and work. "Waterways for Growth" will work by implementing a number of themed initiatives on business and product development, waterway regeneration and the sustainable management of waterway resource.
Video about the project can be found here: http://www.youtube.com/watch?v=pmG8MwbrX_A
The Framework will focus on 3 key areas of activity - (1) business & product development; (2) waterway regeneration; (3) sustainable management of the waterway resource, in terms of the natural environment, sustainable transport & built heritage. The development of the Framework will be supported by means of a series of practical measures and pilot actions to further the economic & sustainable development. Evaluation of the pilot actions will contribute to development of the Framework and lead to further practical actions for taking the sustainable development of inland waterways forward and suggest priorities for future funding and investment in the sector.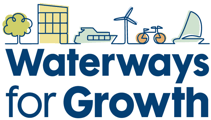 Expected Outcomes
A framework for the sustainable development of inland waterways;
New and expanded businesses based on waterways;
A common approach to regenerate historic waterways;
Extension of the network of recreational waterways;
New approaches to further develop the sustainable development of waterways.
More information about current status and project itself can be found here: http://www.northsearegion.eu/ivb/projects/details/&tid=92
Project Homepage
Picture of Telemark borrowed from
here.
Updated: 29. December 2010