Turn of the Lights!
Earth Hour 2013
Earth Hour, the lights-off initiative of the WWF that has become the iconic symbol of people's concern and commitment to save the planet, kicked off in Samoa and makes its way across the globe as over 7 000 cities, towns and municipalities across more than 150 countries and territories go dark for an hour of expressed and inspired solidarity.
Tweet
Even before it started, inspirational stories have started coming in from all over the world. In Libya where Earth Hour is only on its second year, participants have begun the 80-kilometre walk from Gharyan in Northwest Libya to the capital Tripoli to celebrate Earth Hour 2013. Canadian Astronaut Commander Chris Hadfield tweeted from space that he would observe Earth Hour around the world today.
Former South African President, anti-apartheid hero Nelson Mandela tweeted and hashtagged his support of Earth Hour: "The trees & forests were destroyed exactly because our people were so dependent upon them as sources of energy. Each time one of us touches the soil of this land, we feel a sense of personal renewal."
President of Russia Vladimir Putin will support Earth Hour by turning off the lights in his presidential residence – the Kremlin. For the very first time, Moscow's Kremlin and whole Red Square complex, including St. Basil's Cathedral, Historical Museum, and the famous GUM-mall will switch off for Earth Hour at 8:30PM local time. The inaugural switch off at the Kremlin and Red Square becomes more significant given that Russia is where Earth Hour's largest conservation outcome has been achieved so far.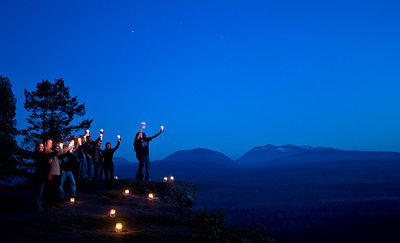 "Tonight is about the celebration of this amazing planet we all share. Lights off is a powerful reminder of what we can do when we work together but it has also become more than that. This year, Earth Hour is delivering meaningful results towards a sustainable future," said Andy Ridley, CEO and Co-Founder of Earth Hour.
Russians have shown how they can positively impact the world we live in when WWF-Russia secured 120 000 signatures which became instrumental in passing a law in Parliament to protect the country's seas from oil pollution. Fuelled by that achievement, WWF secured 100 000 signatures to petition for amendments to the current forest legislation which could be the catalyst for the return of a ban on industrial logging in an area of land twice the size of France.
In Russia's Far East Forestry Department workers together with WWF`s experts are spending the hour in protective forests near the Bikin river, in line with this year's campaign. "I`d like to spend Earth Hour at home all warm and cozy," said WWF coordinator of Sustainable Forestry, Dmitry Sychikov. "But I had to change the warmth of the hearth for the frosty night in Bikin Taiga. That is our work. It is worth it."
The Kremlin and Red Square join landmarks in more than 150 countries and territories for Earth Hour 2013, with Palestine, Tunisia, Galapagos, Suriname, French Guyana, St. Helena and Rwanda among those joining the global movement for the first time. Earth Hour has also hit its founding city, Sydney, where in an unusual twist the Sydney Opera House was lit up green, in celebration of its commitment to switch on to renewable energy.
This year Earth Hour Australia is asking participants to "switch off for good" and move to renewable energy. Other landmarks going dark include: The Sydney Harbour Bridge, Tokyo Tower, Taipei 101, The Petronas Towers, Beijing National Stadium (Bird's Nest), Marina Bay Sands Singapore, Gateway of India, The Burj Khalifa, The Church of the Nativity (Birthplace of Jesus, Bethlehem), Table Mountain, Dubrovnik City Walls, Eiffel Tower, Avenue Habib Bourguiba, The Acropolis, Tower of Pisa, The Spanish Steps, Brandenburg Gate, Buckingham Palace, Tower Bridge, The UK Houses of Parliament, Big Ben, Christ the Redeemer Statue, CN Tower, Las Vegas Strip, Times Square, The Empire State Building, Niagara Falls and more.
In a message to the world on the eve of the seventh Earth Hour, UN Secretary-General Ban Ki-moon has set the agenda for this year's hour of inspiration. "We participate with an undimmed determination to take action on climate change. Everyone has a role to play. Governments need to provide the political will, businesses can contribute solutions, and civil society, especially young people, can mobilise global action. Together, let's do our part and shed light on common sense answers for a cleaner, greener world," said Sec-Gen Ban Ki-Moon. As an open sourced campaign, the WWF affiliated Earth Hour movement uses social media to connect a global community of people inspired to change the world we live in and support from these stars take the campaign to new levels of engagement with young people who will benefit the most from a sustainable planet.
Picture & Video - Copyright Earth Hour Global
Updated: 23. March 2013