Trans in Form project is granted !
BSR program adopted 17 new project
The Monitoring Committee of the Baltic Sea Region program adpoted 16th September "Trans in Form" (TiF) and 16 other projects. Notodden Municipality as lead applicant is ready to launch the project after some weeks. The project will focus on town shape, identity and transformation and will deliver a comparative study of regional attractivity.
Small and medium sized cities in Europe should according to the Leipzig Charter be redesigned and face lifted. At a meeting in Oslo on September 15. and 16. the Monitoring Committee for the Baltic Sea Region approved the INTERREG IVB - project "Trans in Form". The project has a total budget of 1.6 million euro. International experts and new ideas shall contribute to the development in 9 European countries. Together with local fire souls and politicians we expect to gain increased attractivity and consciousness on local design and architecture. Diverse places and regions in Europe will learn from each other and develop joint pilot projects.
Notodden municipality is originator and project owner. Other Norwegian partners are the County Councils of Telemark and Østfold together with Indre Østfold Regional Council. Telemark Research Institute will accomplish regional attractivity measurements in seven countries and will together with Telemark County Council support Lead Partner. The project runs for three years.
The partner consortium is in addition composed like this: Regional Planning Authority Havelland-Fläming in Germany, The Municipality of Tranemo in Sweden, Vidzeme Planning Region in Latvia, the Region of Jelgava in Latvia, Alytus County Governor's Administration in Lithuania and Suwalki City Municipality in Poland.
Co-partners are Grodno City Municipality in Belarus, Pskov Regional Development Fund in Russia, Russian Tourism Academy, Pskov Branch in Russia, Krasnoznamensk City Council in Kaliningrad, Russia and the public institution Innovation Circle Network registered in Norway.
The project mission is to develop new strategies to make small and medium sized cities in Europe more attractive for people and businesses. By means of face-lifting public spaces we will strengthen attractivity and competitiveness. Architecture, water, light and design will be central elements. In addition we also want to achieve better environments and sustainable use of energy in all Europe.
Local and international experts will put forward regional scenarios and concrete investment plans. Schools, NGO's and local businesses should be involved when focusing regional identity and profiling the participating regions. Trans in Form will also publish and describe Baltic Sea Region highlights.
The project seeks synergies with other EU projects such as The ESPON project PURR (Potential for Rural Regions) Notodden municipality is lead stakeholder in that project.
Transinform project is also searching for experts who would like to team up and work within the following fields:
Management and administration
PR, communication and information
Webdesign
New urban design
Lightscape and soundscape
Cultural geography and landscaping
Story telling
If you posess any of these skills and interest for the project idea, feel free to contact the management team or Lead Partner. Feel free to submitt your CV and tell about your consulting rates.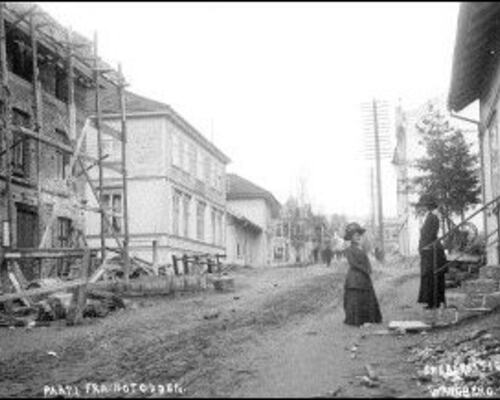 Part of Storgata in Notodden Center 1910
Updated: 15. August 2012