To the well-being of the planet
Goldman Environmental Prize 2011
They let conservation initiatives to protect black rhino population, fight to protect endangered ecosystems, stop industrial pollution or create a cooperatively-owned renewable power company. Today, six global environmentalists from around the world were honored with the Goldman Environmental Prize 2011.
Grassroots environmental heroes too often go unrecognized. Yet their efforts to protect the world's natural resources are increasingly critical to the well-being of the planet we all share. Thus, in 1990 San Francisco civic leaders and philanthropists Richard N. Goldman (1920-2010) and his wife, Rhoda H. Goldman (1924-1996) created the Goldman Environmental Prize.
One of this year's award winners is Ursula Sladek. The mother of five from the tiny community of Schönau in Germany's Black Forest region, created her country's first cooperatively-owned renewable power company in response to Germany's expanded reliance on nuclear energy. The Chernobyl disaster 25 years ago served as a serious wake-up call about the dangers of nuclear energy. Sladek and her neighbors were alarmed by reports about radioactive residue detected on playgrounds, backyard gardens, and farmland in Schönau. Suddenly, it was unsafe for Sladek to go about her normal routine of eating locally grown foods and sending her children outside to play.
In response, Sladek, her husband, and a small group of parents began researching the energy industry in Germany to see if there was a way to limit their community's dependence on nuclear power. They found that power companies were not allowing citizens to have a say in energy production decisions. Chernobyl proved that though nuclear energy could be called "green" by some standards, the safety risks associated with it were cause for deep concern. Sladek also knew that nuclear energy was not the only option. Thus, the group began what would become a 10 year project to take over the local grid, and in a second step, allow people all over Germany to choose safe, reliable, sustainably-produced energy. This project would transform Sladek from a small-town parent trained to be a schoolteacher into the founder and president of one of Europe's first cooperatively-owned green energy companies. "A renewable energy supply helps reduce nuclear dangers as well as climate change and therefore is central for the future of mankind", says Sladek.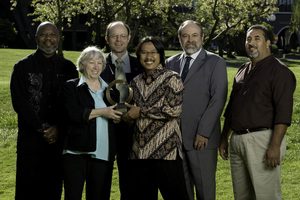 The Goldman Prize continues today with its original mission to annually honor grassroots environmental heroes from the six inhabited continental regions: Africa, Asia, Europe, Islands and Island Nations, North America, and South and Central America. The Prize recognizes individuals for sustained and significant efforts to protect and enhance the natural environment. Each winner receives an award of $150,000. The Goldman Prize views "grassroots" leaders as those involved in local efforts, where positive change is created through community or citizen participation in the issues that affect them. Through recognizing these individual leaders, the Prize seeks to inspire other people to take extraordinary actions to protect the natural world.
Since 1990, 145 winners from 80 countries have received the Prize for outstanding efforts to preserve and enhance the environment, often at great personal risk. For example, Alexander Nikitin (1997) was unjustly imprisoned for revealing the risk of a potential nuclear catastrophe from Russia's aging nuclear submarine base, preventing him from attending the Prize ceremony. Ken Saro-Wiwa (1995) was hanged by the Nigerian military after leading a peaceful movement for the human rights of the Ogoni people whose land had been exploited by multinational oil companies. In the Ecuadorian Amazon, Pablo Fajardo and Luis Yanza (2008) are leading one of the largest environmental legal battles in history against oil giant Chevron, demanding justice for the massive petroleum pollution in the region. Fajardo has been subject to harassment and threats on his life.
The Goldman Prize amplifies the voices of its recipients and provides them with international recognition to enhance their credibility, worldwide visibility for the issues they champion, and financial support to pursue their vision of a renewed and protected environment.
Picture: The 2011 Goldman Environmental Prize Recipients: Hilton Kelley, Ursula Sladek, Dmitry Lisitsyn, Prigi Arisandi, Raoul du Toit, Francisco Pineda (L –R) © Goldman Prize

Updated: 13. April 2011