"The Way to Freedom" sculpture in Vilnius was finally unveiled
On the 22nd of October sculpture "Laisvės kelias" ("The Way to Freedom") was opened to public. It symbolizes Baltic way – a demonstration which took place 21 year ago and united people from three Baltic Sea countries to fight for independence. Campaign was organized to raise money for the sculpture and people, who donated now have their names on it. The slogan of the compaign was: "The Way to Freedom" – the spirit of unity is alive!
Colorful sculpture represents a live chain of people holding hands with each other, being solidary. It is colored in yellow, green and red – Lithuanian flag colors. Artistic wall was created from more than 20 thousand nominal bricks. It is 63 m long and 3,5 m high.
On the 23rd of August presidents of three Baltic countries had a chance to lay the brick to the sculpture. Ceremony started and ended with a concert of famous Lithuanian musicians and brought Vilnius citizens together. It was another occasion to remember the The Baltic Way, Baltic Chain or in other words - Chain of Freedom.
Baltic way was a peaceful political demonstration, which occurred on August 23, 1989. Approximately two million people joined their hands to form a human chain spanning over 600 kilometers across the three Baltic states – Estonian SSR, Latvian SSR, and Lithuanian SSR, republics of the Soviet Union. It marked the 50th anniversary of the Molotov–Ribbentrop Pact between the Soviet Union and Nazi Germany. (The pact and its secret protocols divided Eastern Europe into spheres of influence and led to the occupation of the Baltic states in 1940). The protest was designed to draw global attention by demonstrating a popular desire for independence for each of the entities. It also illustrated solidarity among the three nations. Within six months from the protest, Lithuania became the first of the Republics of the Soviet Union to declare independence.
Last year Baltic States were celebrating 20th anniversary of the Chain of Freedom. The idea of creating a sculpture that would remind of Baltic solidary was generated by sculpturer and artist Tadas Gutauskas. Author has already created 2 sculptures for Vilnius before. "Tree of unity" found its' place in Vingis park and sculpture for "Lithuanian basketball" is situated near Siemens Arena. Sculpturer was acknowledged and received few awards for his works.
A lot of people donated money to bring sculpture to life. Famous people of Lithuania and other Baltic States – artists, politicians, businessmen, lawyers, etc. – and other citizens had a chance to buy a brick with their name of family name by donating some money. Social campaign helped to raise the sum needed and was a good example of how powerful people can be when they are together.
The Baltic Way was a beautiful demonstration showing solidarity and friendship between three Baltic States. Citizens and guests of Vilnius will now have a possibility to remember this occasion by admiring "The Way to Freedom" sculpture.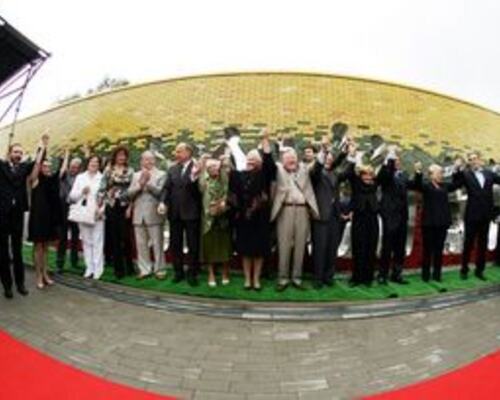 Laisvės kelias sculpture
The way to freedom
Updated: 08. December 2010