Rohkohl has been following the network for several years and after taking part in the last annual ICN conference in Siauliai he announced to become an ICN member.
To welcome new family members is always a pleasure. The latest ICN "new face" came from the beautiful island Rügen in Germany to take part in the annual ICN conference that took place at the end of November in Siauliai, Lithuania. After following ICN via internet Ekkehardt Rohkohl finally wanted to meet the people behind this organization. And it seems like we impressed him. On the 1st of January he registered as ICN member.
Born in 1954 in the former GDR, Ekkehardt Rohkohl started his career in the army. From being a lecturer at a military academy in East Germany for students from third world countries, Ekkehardt Rohkohl changed to work as a trainer at a private professional training institute for economics and informatics. Later he supported small and medium seized enterprises in the north of Vorpommern region in various business related affairs. Also during this time he started a few own businesses, mainly in the fields of start-up promotion and subsidy management.
While he broke up with the entrepreneurs association his own network of good business friends run quite well. "There was no boredom especially since I joined IT-Circus project - some kind of privately run regional development based on ICT industry", says Rohkohl. For ICN he was eager to answer a few questions that helps us to get to know him a little better: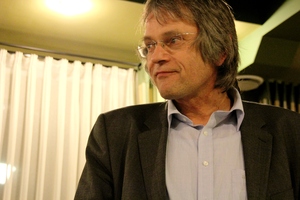 How did you hear about ICN and since when do you follow the networks activity?
In autumn 2007 during a Baltic Sea Region Programme event I made contact with Alexandra Pečiurienė who was representing Innovation Circle Network there. A few weeks later we met again in Alytus and I got to know more in detail about this community and how they were collaborating with each other. Once attracted I did follow the newsletters and other ICN information more attentively and found lots of useful ideas there. Of special interest to me was that obviously this community had more in common than what was needed to run one single funded project only and therefore they did continue their co-operation after the funding's end and enlarged it to other items too.
Please, tell us a little bit about your company and your experiences with working in the BSR:
Since some ten years already itm-consultants gmbh is working in the fields of project development and project management. The very first project aimed on labour market development in frame of Community Initiative EQUAL. Meanwhile we were engaged in Research & Development projects on national and European level too and during the last years the EU's Territorial Co-operation Objective did occupy more and more of our resources. Our private company did support several - mostly German – organisations to develop and implement projects in Baltic Sea Region, North Sea Region, or e.g. the South Baltic Co-operation Programme. Right now we are closing a BSR project that was implemented by 21 partners from 6 countries. It was about energy efficiency and the use of energy from renewable sources in public authorities and our role was mainly the project's finance management. The roll-out and utilization of broadband internet in rural areas did bring together 27 partners from 8 BSR countries in a project of the previous funding period. We assisted some of the partners in their local project implementation and in a later stage took also the finance management of the project.
Why do you think it is worthwhile to join ICN?
What I understood up to now, ICN is a community of relevant players seeking for favourable solutions for common challenges by international exchange and co-operation. It may be interesting for some of my partners and clients being connected to this network. Furthermore while following such aims it could be beneficial also to make use of assistance that is offered for certain purposes by various public funded programmes. And in case our experiences in developing and implementing EU funded projects would be considered helpful for network's members.
What in your eyes are the biggest challenges for the region you live in?
Let us start with the demographic change. Additional to the well-known situation in western Europe that the birth-rates are in decline and the share of persons in the retirement age is growing lots of young people from here leave their home region to find their professional perspective (and later the private too) anywhere else, mostly in the west and/or south of Germany. One more issue is that about half of the GNP in our region is generated in tourism industry. Great, we have such resources! But how to cope e.g. with a rainy summer? And the most nightmare is a tanker crash in the southern Baltic Sea! Municipalities in our region seems to be under-financed in relation to their legal tasks. Subsequently the amount of municipalities' debts is increasing year by year, with all well-known negative consequences for their ability to implement own initiatives.
What in your eyes are the biggest challenges Europe is facing?
Nowadays the hard facts of the debt crisis are jeopardising the European Idea. But the existing needs to straighten out the public households should not terminate all projects to face the future's challenges and to better the life of the famous "people in the street". Maybe our co-operation could help to initiate respective developments by learning from the exchange of experiences and implementing lighthouse projects which will lead to sustainable changes. When employing clever ideas we could generate more and better effects without consuming huge resources, I guess.
Why is international cooperation important for you?
Europe makes the most of our business – but let me provide a private view: As more as I learn about people from other countries, other cultures and so on, also within our "little" Europe, as more I feel to learn more about myself, where I come from and should go to. May be it is not a mistake seeing the bigger picture, and in case one could learn from the neighbours' experiences.
Where do you see your company in 5 - 10 years?
We will have collected a lot of experiences from several projects, about fifteen to twenty at least. And I was told that it would be time to prepare the handing-over of the business to the next generation too.
Why is Rügen a good place to live?
I live and work in a region where other people come for holidays! But beside a pictures landscape, a functioning nature, sandy beaches etc. such an island provides a special social climate, a special level of interaction between the stakeholders. Sometimes it makes it easier to bring things forward. However, it is exciting to live here!
The Innovation Circle Network welcomes Ekkehardt Rohkohl and is looking forward to work closely together for a prosperous future in the BSR.
Copyright text & images from ICN conference Siauliai: Christin Schmidt - ICN 2013