Tweet
Exchange of experience helps Vidzeme Planning Region to improve regional policies for balanced regional and national development. In 2012 Vidzeme Planning Region continued to search for the most appropriate solutions for the development of entrepreneurship, environment and energy, information communication technologies, tourism and place marketing, vocational training and spatial planning of the region. "Thanks to all partners' expertise and development of joint ideas, we have already achieved a lot. Our partners help us to defend our mutual interests on the European level - we tackle similar issues. We believe that strong regions make a strong Europe", explained Nikolajs Stepanovs, Chairman of Vidzeme Planning Region Development Council.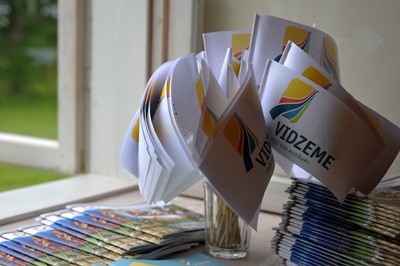 Cooperation with the General Council of Lower Rhine
2012 was significant for the partnership history of VPR with the General Council of Lower Rhine. The cooperation agreement was re-signed for four more years in an official ceremony. The event brought the Ambassador of France in Latvia as well as members of the Lower Rhine Council to Valmiera. Since the beginning of the cooperation, a number of culture and tourism projects have been initiated and implemented. In 2013 the scope of activities should be widened.
Cooperation with Pskov
To develop the social sector, entrepreneurship and culture contacts, as well as to facilitate the involvement of the local governments of Vidzeme are the aims of a new cooperation agreement that VPR signed in 2012 Pskov District of the Russian Federation. A great opportunity for Vidzeme Region to tell their Russian colleagues about offers and opportunities for tourists were the Vidzeme Days in St. Petersburg. During the event in November 2012 23 entrepreneurs from Latvia met entrepreneurs from St. Petersburg and discussed possible cooperations.
Food Cluster
VPR acts as a coordinator for one of the two cluster initiatives in the region – "Vidzeme high added value and healthy food cluster". Development of this cluster initiative started in late 2009 by three entities. Since then, the cluster initiative has been steadily growing, and now there are more than 20 entities participating in the cluster: food & drinks producing SME's, universities, research institutes and associations. Since early 2012, the cluster is one of the partners in "Baltic Sea Region (BSR) Food Cluster Network" initiative, which is now approved as one of the "BSR Stars Programme" projects. This project aims to help food producing SME's in their international activities and efforts. The network is built up with stakeholders from countries around the Baltic Sea.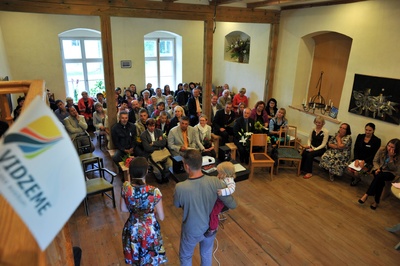 "Move on Green"
"Move on Green", another VPR-project, aims to support decision makers of mountain and rural areas on sustainable and efficient transport planning. This includes an exchange of experience among partners to study the solutions implemented in partner regions, with the objective of adapting those solutions to implement them in other regions. A specific emphasis is brought to the long-term social, environmental, and economical aspects during the project implementation.
Tourisms and Place Marketing
"Via Hanseatica" is a tourism route that connects several cities in different countries – St. Petersburg, Narva/Ivangorod, Tartu, Valga/Valka, Valmiera, Sigulda and Riga. The aim of the project is to facilitate the territorial development of remote areas in Estonia, Latvia and Russia by using the potential of the Via Hanseatica tourism route. One of the Via Hanseatica activities is to make small improvements to 12 tourism objects. In 2012 works in five objects in the Vidzeme region have been finished and now visitors can enjoy better services there.
"The EU support has launched a variety of initiatives that make Vidzeme region competitive not only in Latvia, but also beyond its borders. Mutual trust, unity and cooperation have a unique role in the implementation of common ideas and goals. And we are pleased to share our own experience and knowledge with our partners", so Nikolajs Stepanovs, Chairman of Vidzeme Planning Region Development Council.
This was just an excerpt of VPR international activities. For more details feel free to download the enclosed pdf.