A seven priority strategy is developed in order to help the regional actors to work towards shared goals:
•
Retain and attract more people of working age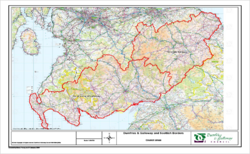 •
Grow a Knowledge Economy
•
Develop skills and learning
•
Maximise the benefits of connections to cities
•
Realise the potential of businesses and sectors
•
Build a high quality place to live, work and visit
•
Develop use of our natural and cultural assets
A study group from Vidzeme planning region, Cesis District and Jelgava District in Latvia and Østfold county in Norway visited the Dumfries and Galloway the 28th January. Professor Cliff Hague organized the trip which was a part of the preparations of the Purr project(ESPON) which will commence last quarter 2009.
Scotland's national poet Robert Burns spent his last years in
Dumfries
until he died in 1796 and there is today a Robert Burns center. Dumfries hosted the Norwegian Brigade during the second world war and is today a great place for enjoying walk in nature, golf and mountain biking. The Forestry Commission has organized the 7 stanes mountain bike trail and it attracts every year 400.000 bikers, mainly from England, Scotland and Ireland.
Dumfries and Galloway is one of Scotland's 32 councils and has 147000 population for 6370km². Sandy Colvine taught the group about the theme town concept. Within the council there is an artist town, a food town, a book town and well being town. Mark Grieve introduced the Business Gateway which is a national
interactive portal
for SME's and start up entrepreneurs.
The study group also visited the Scottish Government, department for regional affairs and the Royal Town Planning Institute in Edinburgh.