What has happened in the IC partner regions in the last weeks and months? That was one of the topics Alf Johansen (ICN General Secretary), Michael Noren (ICN chairman of the board) and eight other ICN members talked about when they met in Latvia's capital and Europe's capital of Culture these days.
And we can say, there a lot of things going on: Did you know for example that one of ICN's partner region is the most youth friendly region in Europe? Or that a logo that had been established during the Trans in Form project is award winning?
Ostfold in Norway has officially been elected to be the most youth friendly region in Europe. The Most Youth Friendly European Region Award (MYFER) offers the European regions every two years the chance and possibility to make their projects and initiatives in youth issues known to a wider public and to spread the good experiences and best practices.
Under the theme of "Youth participation in democratic life at regional level", the 2014 edition of the MYFER sought to underpin the topic of youth participation in democratic life with examples of best practice from the European regions.
The theme had been chosen in relation to the political report on "The involvement of young people in democratic life at regional level" which is being drafted by the AER and to the elections to the European Parliament in 2014. Congratulations to Ostfold!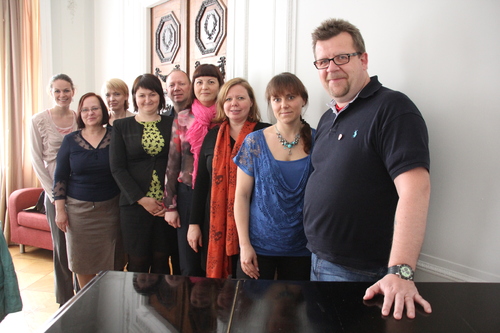 Another good news is the award for the logo of Jelgava municipality that has been developed within the TiF project - in which ICN was a Co-partner. Since the logo is registered as a trademark Jelgava was eligible to take part in a competition for trademarks registered in 2013 in Latvia – with success: "We got the first price. 108 trademarks applied, we tried and won", said Anita Skutane during the meeting in Riga.
What else? An application for the "Erasmus Plus program" had been handed in by six ICN partners, explained Alf Johansen who was in charge of writing the application. And we can also announce that date and place for the next annual ICN meeting are fixed: Save the date! 12 - 13 November 2014 – Hotel Avalon in Riga, Latvia. More detailed information will be published soon on this website.