The Norwegians stayed for three days in Suwalki and started their visit with a look back together with Czeslaw Renkiewicz, President of Suwalki. In a summary guests and hosts recalled five years of cooperation and at the end signed a new partnership agreement for this year.
It was on the 18th of February in 2008 when Notodden and Suwalki signed the first agreement on cooperation. Since then, the two cities have carried out a number of activities. Among them is a very close cooperation in organising the Suwalki Blues Festival as well as the joint EU project "Trans in Form". One outcome of Trans in Form was a concept for the reconstruction of the Maria Konopnicka Square.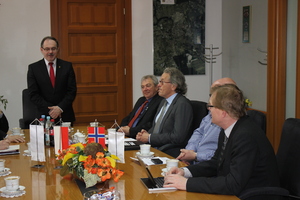 "Every time I visit Suwalki I'm impressed how the city has unfold. There is always something new", praised Jørn Christensen, mayor of Notodden, referring to the rebuilding of Konopnicka Square that began last year and other new projects and ventures. "The city develops in a really good direction. I miss only an airport", said Christensen. "But we do everything to gain EU co-financing for that investment", replied Czeslaw Renkiewicz.
But there are also good news when it comes to transportation in Suwalki and the surrounding area. "It looks like the construction of Suwalki's ring road will start next year", added Renkiewicz. Suwalki's president also discussed the five years of joint activities between Suwalki and Notodden. There were more than the previously mentioned actions: In 2011, a team from Norway took part in the Mini Euro, which took place in Suwalki. Also residents of the nursing home Kalina visited Notodden. "I am glad that our cooperation is not limited to joint meetings between officials of our cities. Our residents take part, too", said Bjørn Frode Moen, advisor for International Affairs from Notodden. "When I come to Suwalki, I feel like it's my second home. Here I met many good people and friends."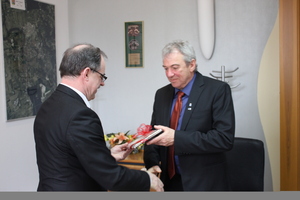 During the meeting Norwegians said that after years of cooperation with many other cities they resigned from all besides Suwalki and Clarksdale in Missisippi, USA, the cradle of Blues. An example for the strong interest in music that both - Suwalki and Notodden have - is the visit of Suwalki's brass band in May. The band will go to Notodden and participate in the 100th anniversary of Notodden celebrated during the Constitution Day of Norway on the 17th of May.
During their stay in Suwalki the Norwegian delegation also visited the Science and Technology Park and took part in a meeting at the District Employment Office in Suwalki, where they talked about the job market and discussed possibilities of cooperation to decrease unemployment in Suwalki. The Norwegian delegation - in addition to the aforementioned guests - were also Torgeir Fossli, education specialist and representative of Notodden's art school and Geir Midtbø, Director of the Bureau of Labour and Social Welfare in Notodden.