Notodden Blues Festival in Norway – the Best International Blues Festival
The Blues Foundation awarded "Notodden Blues Festival" as the best International Blues festival in 2010. Notodden Blues Festival is one of the biggest festivals in Europe and arguably the largest one in Scandinavia. The 23-year-old festival is described as a blues adventure every fan should experience. We have no doubts about it – so do not forget to pack your things at the beginning of August if you want to be surprised of what Notodden festival town can offer!
Notodden Festival will be taking place in 4-7th in 2011. Last year, in 2010, it was staffed by a force of 700 volunteers and an administrative staff of 3.6. The festival turns the tiny Norwegian town of Notodden, population 7,000, into the cosmopolitan blues center of Europe, drawing over 30,000 fans from all corners of the blues world. It is the town's commitment to this festival that wins over fans the moment they set foot on Notodden's main streets. The city turns every available nook into a stage for the music. Normal clubs burst at the seams, restaurants transform into Mississippi jukes, and alleys sprout stages and sound systems and morph into intimate venues. The festival, which serves as a tower of pride for the region and for the nation's enthusiastic blues community, is strongly supported by the residents of Notodden.
The Blues Foundation, who organizes annual competitions, is Memphis-based, but world-renown as the organization dedicated to preserving our blues music history, celebrating recording and performance excellence, supporting blues education and ensuring the future of this uniquely American art form. Founded in 1980, The Blues Foundation has 3500 individual members and 185 affiliated local blues societies representing another 50,000 fans and professionals around the world.
Blues festivals were nominated in several different categories, such as best international festival, best festival in the United States (Tampa Bay Blues Festival, St. Petersburg, Florida), festival, which takes care of historical preservation (Canada South Museum, Windsor, Ontario, Canada), festival with the best educational part (Gary Allegretto, Los Angeles, California).
Besides that, best blues clubs and organizations were awarded. Chan's Fine Oriental Dining (in Woonsocket, Rhode Island) was nominated as the best Blues Club and Billtown Blues Society (based in Williamsport, Pennsylvania) was chosen to be best Blues organization.
The Blues Foundation also honored people, who contributed to making Blues more popular. Paul Nelson (Bullseye Management, Stamford, Connecticut) was chosen to be best Manager, Bill Steber (Murfreesboro, Tennessee) – best photographer, Michael Freeman (Barrington, Illinois) – best producer, Didier Tricard (Montferrier sur Lez, France) – best promoter, etc.
Notodden Blues Festival official website can be found here.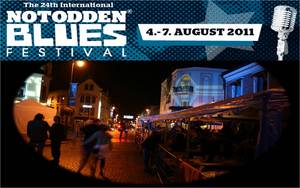 Share on Facebook
Updated: 23. November 2010