Norway voted red and green !
Close race in Norwegian election
Jens Stoltenberg can keep on as PM. Norwegians obviously wanted stability. His red and green alliance managed to win the parliament election for the second time. A close race ended in continuation of the government lead by a popular prime minister. A green light was given for four new years. The PM's labor party is now the largest with 35,0% of the votes. His main rival FRP (progressive party)gained 22,9%. Government partners Socialist party(SV) got 6,1% and Center party(SP) got 6,2 %. Other parties in the parliament is the Conservative party(H) with 17,2 %.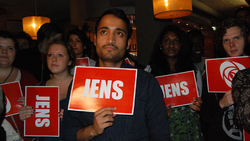 Big looser is the Left party(V) which gained 3,8 % and lost eight seats. Christian Democrats party (KRF) got 5,5 %.
The election strengthened the PM's party and weakened the socialist party. This will probably lead to some changes in the government and less socialistic influence on the political direction.
Updated: 15. September 2009