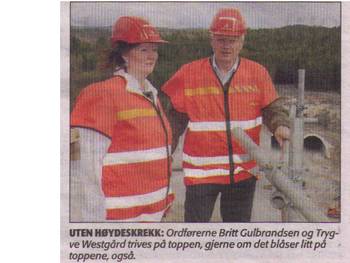 (All info and photos from local newspaper Smaalenens Avis)

The mayor of Askim Trygve Westgaard and the Mayor of Spydeberg Brit Egeland Gulbrandsen contributed to the last final symbolic concrete work on the bridge. A small seremony wihere all stakeholders were present Monday 11th May.

The bridge and the new road will mean a lot for the regional development in "Indre Østfold Region". It will cut the driving time with at least 10 minutes from Askim to Oslo center when all works are done. However, some important parts of the road will not be finished before after another 5-10 years. The new road which will be officially opened later this year will also lead most of the traffic outside Spydeberg center and this is a challenge for local trade businesses at the same time as it gives a big opportunity for reconstruction of the small town center. Spydeberg has been working on a new startegy for cnter develeopment and through the projects Innovation Circle and Transinform teh municipality has gained many new ideas and proposals. The first draft of the plan is expected to be presented in the autumn 2010, at the same time as the new road will be opened.