Murmansk Vice-mayor Meets Innovation Circle Participants
March 4 Innovation Circle participants were invited to the Murmansk City administration, for a meeting with the city vice-mayor Mr. Aleksandr Shatashvili. The Network General Secretary Alf S. Johansen, a coordinator for a lead partner in Transinform Bjørn Frode Moen, Vice president of Suwalki city Czeslaw Renkiewicz and other delegates from Norway, Russia, Poland and Lithuania visited the Municipality.
The vice mayor welcomed all the guests. He shared his positive attitude towards the Innovation Circle project. Mr. Alf Johansen introduced briefly the new project idea and presented the final report of Innovation Circle results in Murmansk city. He also expressed an intent to continue cooperation with Murmansk further. Later participants exchanged some nice words and presents. All of them might have felt a friendly and warm atmosphere in the meeting. The new project application has to be submitted until 30 May 2008. the last days are coming to the end when partners have to make their decision if they join the project. Clear number of TransinForm partners will be defined before Easter. If Murmansk joins the project about Sustainable Attractive and Competitive places we will know soon.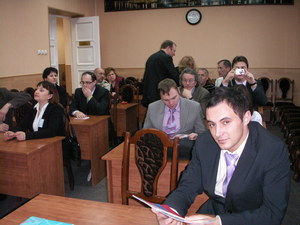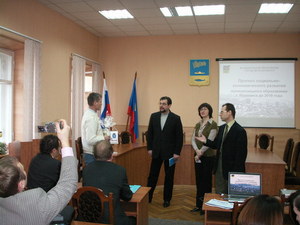 Updated: 04. April 2022