All of the mayors indicated they speak Russian, 21 can speak English, 15 German and 11 Polish. In a survey made in the biggest Lithuanian cities 56,8 percent answered they are satisfied or partly satisfied about their new mayors. 37,8 percent said they are unsatisfied with the new mayor. 14,8 percent said they don't know yet if the mayor is going to be good.

When asked which town is the most successful in getting good leaders, 37,2 percent answered that all are unsuccessful.
The capital Vilnius elected Arturas Zuokas, who has already been the mayor two times earlier. After coming to the post he introduced 12 working hours a day in Vilnius Council for a limited period of time.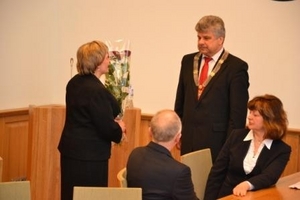 The second largest city in Lithuania voted for Conservative party giving them twelve mandates out of 41. The Conservatives party had the mayor the last period. The closest was the social democrats party that got six council seats. However, the post of a mayor was given to Rimantas Mikaitis who is the leader of united liberals party (three seats in the Council). After cases like this the Internet is overcrowded with comments about a wish to have direct mayor elections. According to a survey 82,9 percent Lithuanians wish to have direct mayor elections.
Innovation Circle Network partner Alytus elected Mr. Feliksas Dziautas who got 18 Council votes. His competitors got six and two votes.
Mr. Dziautas has been involved to Innovation Circle Network activities during years and he was Alytus Municipality Executive director during the period of Innovation Circle project, where Alytus played the lead partner's role.
Pictures: Feliksas Dziautas and Alytus municipality council (© www.ams.lt)