Looking at Norway!
Latvian experts studying urban design and land use
An expert group from the Latvia University of Agriculture was visting Norway at the end of September. They experienced new urban design and traditional design and landscaping in a shifting autumn weather from the sunny seaside at Arendal to the foggy hills and mountains of Telemark, as it can only be experienced in Norway. Heddal stave church from the 13th century in an September grey light became the contrast to a dynamic and sunny new urban Aker Brygge in Oslo.
The study visit was a part of an EEA funded project undertaken by the Latvian university where Innovation Circle Network is the Norwegian partner. The project group contained four landscape architect specialists, one agriculture specialist and one IT specialist who also is the project manager.
In Arendal the town planner Michael Fuller-Gee gave a presentation about the priniples and goals behind the town development and the new urban design. He took the group for a town walk where the many small and large city development elements could be explored. He explained how city development can be a struggle between new ideas, traditions and various commercial interests. An important goal has been to take back the waterfront for people and to put as much as possible of car parking underground.
After Arendal the studytrip went in direction of Telemark. A short stop in Åmli village where a small scale design project is undertaken, further on to Vrådal for a night over at this popular and traditional resort. The next foggy morning the group toured through Kviteseid and Seljord before arriving at Notodden. There the group were well received by Bjørn Frode Moen who took the group for a town history trip. The town has this tear together with Rjukan town received the UNESCO award for unique industrial history based on the hydro power productuon and feritilizer innovation, basically creating nitrogen fertilizer from air. This innovation took place in the baginning of the 19th century. Notodden is also the main blues city of Norway, perhaps Europe, and the new House of book and blues combines culture and attractive design. It opens the town towards the waterfront. A short stop at Heddal stavechurch was also a look back into the history.
After Notodden the group looked shortly at Kongsberg and Drammen before the Oslo, the final destination. A walkabout at the new Fjordtown at Aker Brygge and Bjørvik a where the opera house is located gave inspiration and rounded off the studytrip.
DSC_0303.jpg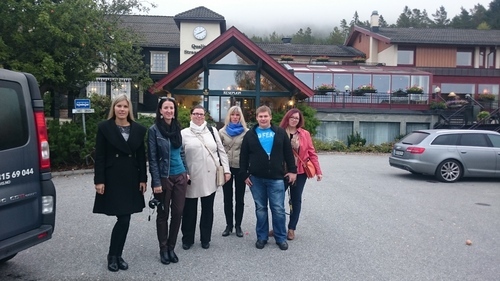 Updated: 11. October 2015