Lithuania voted for Change, Yanukovych claims victory
Elections in Lithuania and Ukraine
In the decisive second round of parliamentary elections in Lithuania, the opposition Social Democrats have prevailed. The voters decided for the expected shift to the left. Prime Minister Kubilius failed in its austerity.
The party of former finance and transport minister Algirdas Butkevičius received a total of 38 of the 140 seats in parliament, as the Election Commission announced in Vilnius.
Already on the election night on Sunday, the Social Democrats agreed with the left-wing populist Labor Party (29 seats) and the opposition party "for order and justice" (11 seats) to form a coalition with which they want to replace the incumbent center-right government of Prime Minister Andrius Kubilius. Kubilius' conservative Homeland Union gets 33 seats. The Liberal Movement gets 10 seats.
Victory for Yanukovych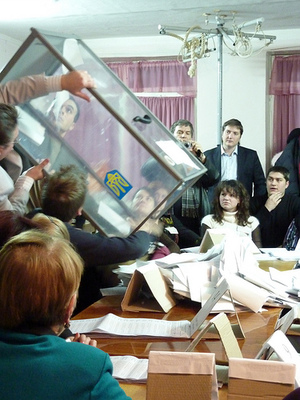 In Ukraine early indications point to a victory for the ruling party of President Yanukovych. At least five parties could move into the new Parliament. The party of President Viktor Yanukovych has to vote for the new Ukrainian parliament appeared to have 27.6 to 30 percent. These are the results from exit polls taken after the election, which were published by several television and survey institutes.
Whether this result is sufficient to govern is still unclear. At least five parties should probably move to the new parliament in Kiev. Three opposition parties together could end up winning a share of more than 50 percent. The opposition alliance Batkiwschtschyna of imprisoned former Prime Minister Yulia Tymoshenko was given according to the surveys from 23.2 to 24.7 percent of the vote. Apart from the Party of Regions and the Tymoshenko Udar the party of former world boxing champion Vitali Klitschko came with 13.2 to 15.1 percent, the Communist Party with 11.5 to 12.6 percent and the nationalist Swoboda with 11 to 12 ,6 percent above the five-percent hurdle.
Pictures:
Top: via flickr © oscepa
Bottom: via flickr © blandm
Updated: 29. October 2012