Tweet
One highlight of the event is the official opening of the sail – the new logo of Jelgava Local Municipality that will be witnessed not only by many locals but also by partners from Italy, Moldova, Norway, Rumania, Germany and Poland.
Ziedonis Caune, Chairman of Jelgava Local Municipality Council and Alf S. Johansen, Trans in Form project communication manager and general secretary of the Innovation Circle Network from Norway opened the event that will be followed by several presentations focusing on place branding,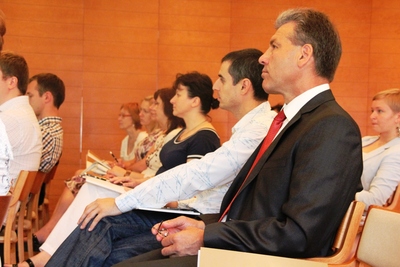 investment promotion, municipal contribution to national marketing and image followed by examples of marketing and promotion of municipality in Rumania and Poland. This event brings together people from various nations and projects with diverse backgrounds. They will all join to discuss new ideas and ways of creating better places to live at.
"We implemented this project because we want to make a difference in Europe", said Trans in Form communication manager Alf S. Johansen. To find strategies to make rural areas sustainable and competitive is one of the things the project is aiming at.
Members of the Innovation Circle Network board also used their visit to Latvia to meet and discuss the progress of the network as well as the annual ICN conference.
Picture: Together with an international delegation ICN members Rita Merca (4th left) and Ewelina Suchocka (5th left) visited the the Bell Tower of the Jelgava Holy Trinity Church © Christin Schmidt