DSC_5523.jpg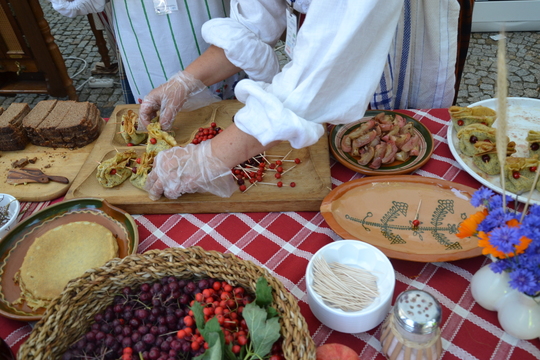 Suwalki recently invited its citizens and about 50 friends from Mariampole in Lithuania to the first Multicultural Culinary Festival. Polish and Lithuanian delicacies and folk music were the ingredients for this fantastic day. Residents and tourists were invited to explore the different tastes Polish and Lithuanian chefs offered during a duel. But it was not a competition, what mattered was the fun and flavor. All viewers could sample prepared dishes. While the Polish group offered a fish soup and kartacze - potato balls stuffed with lamb meat and apple pie, the Lithuanian chefs put on a chicken soup with pumpkin, potato and vegetable pancakes with sour cream and cottage cheese and as dessert crepes with poppy seeds, apples and a sauce with sea buckthorn.
An international jury assessed both teams and came tot he conclusion that both teams did very well. A big basket full of regional victuals was their reward. Chairman of the jury was Marcin Budynek, chef at the restaurant "WARSZAWA" HOTEL in Augustow – a well-known kitchen in Poland.
Besides the delicacies the people enjoyed live music from four folk groups, one oft them were guests from Lithuania, too. Some others enjoyed the sunny weather on a bike trip.
By the way: At Maria Konopnicka place a new chocolate - cafe shop opened recently. Another place to meet. So stop by next time you visit Suwalki.
Pictures: City of Suwalki