IMG_9978.JPG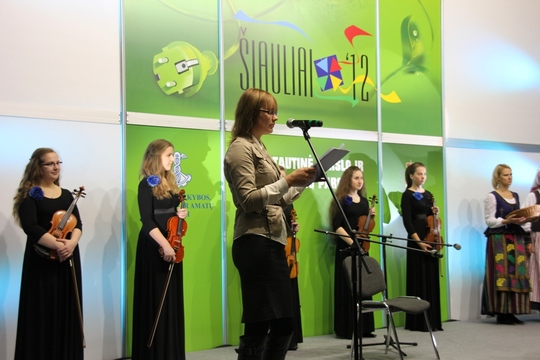 This year's conference was held as a part of the Šiauliai 2012 International Trade and Achievement Exhibition. All participants did not only attend the plenary opening session and the highbrow discussions and presentations, they also visited the annual trade exhibition. This year the event focused on Sustainable Development: Energy, Ecology and Economy and took place in the Siauliai Arena, the city's largest Arena. Here, were basketball heroes shot hoops during the Eurobasket 2011 manufacturers, organizations, small and medium sized enterprises from Lithuania, Latvia, Poland, France, Norway and India showed their services, newest products and business solutions.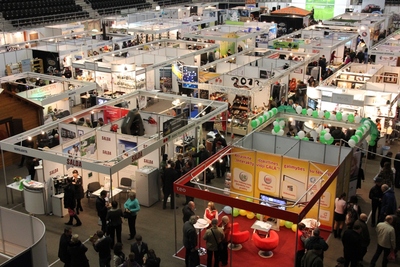 While visitors explored the different booths in the exhibition hall ICN members and interested parties discussed challenges that regions in northern Europe will face in the future. Tackling the topic of European transport strategies and prorities Arne Wilhammar explained in his contribution about the Baltic-Link Corridor - a part of the Trans_european Transport Network - that "investments need to be done in roads, railways and terminal." Thor Hals, Mayor of Askim Municipality in Norway, supported these thoughts in his presentation about the Nordic Triangle and the Oslo-Stockholm-St.+Petersburg Axis. "Europe is a mass of cooperation, a lot of them across borders. We have to find a way to bring those clusters closer together", said Thor Hals.
"Accessibility is one factor but not the only factor in deciding a regions competitiveness", explained Prof. Cliff Hague. In a plenary session chaired by Dr. Eugenijus Maldeikis, economist, consultant and politician in Lithuania, Cliff Hague discussed the EU White Paper on Transport and its impact on Regional development. According to Hague human capital would be another crucial factor for the competitiveness of places.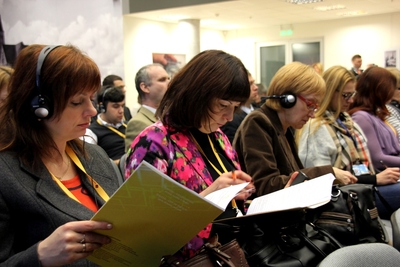 Human capital is amongst others one issue that the Innovation Circle Network focusses on, e.g. with organizing Youth Camps that enable engagement of young people in political, cultural and economical discourses. One example presented Staffan Arvegard from Tranemo in Sweden where an Environmental Future Camp took place this summer. During the Annual ICN Meeting in Siauliai board members and partners agreed on the idea to hold the next ICN Youth Camp in Scotland as Petra Biberbach, Chief Executive of the Planning Aid for Scotland, suggested. "You have to listen to young people; they have to live with consequences that we are making now", said Biberbach. The annual conference was her first encounter with the network. All participants were impressed by her lecture about Community Empowerment and her fresh ideas towards the network.
Since the International Trade and Achievement Exhibition that was held in the main hall was mainly a platform for crafts and trades the IC Network booth was a quite exotic one. But to be different and outstanding is one of the networks features and so ICN representatives used people's confusion of what IC Network is to tell about the organization. The network also represented its sweet side and became very popular with its own cookies; a pleasant surprise for many people and a door opener for worthwhile talks. "Some people got interested in IC Network after trying them", said Justina Mandravickaite, former ICN intern and now supporter of the network and responsible for ICN social media. Teachers and other educators who visited the exhibition were interested in ICN activities including youth. There were also inquiries for people from IC Network to come to schools and to give lectures or organize workshops in entrepreneurship.
The next ICN workshop is planned for May in Cesis, Lativa. Cliff Hague suggested to work up in draft two or three proposals in advance for that meeting and then stand back and test the ideas to come out with a strong project idea. "To figure out how we can match our own goals with EU programs, that is the homework for all partners", encouraged Siv Henriette Jacobsen, ICN member and politician for the Østfold County Council in Norway.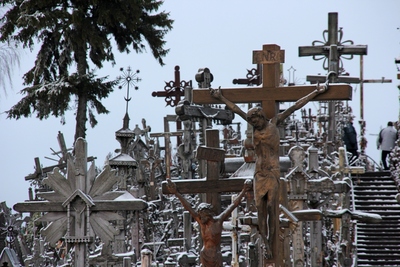 Another highlight of this year's annual ICN conference was an excursion to the Hills of Crosses about 12 kilometers north of Siauliai. Here thousands of crosses all different in size, form and quality are piled up on small hill. People from all over the world come to this place not only to see it but also to leave a cross and with it their wishes. ICN members left their footsteps here as well and were impressed by the special atmosphere of this spot.
"Being in the Innovation Circle is not one project and then nothing more. It is continuous work towards the same goal using projects as a method", said Siv Henriette Jacobsen. "The project is not the goal; even the network is not the goal. The goal is to develop our territories through the network and use the network as a tool", clarified ICN general secretary Alf S. Johansen.
"Our task for next year is to seriously elaborate small projects", demanded Ewelina Suchocka, ICN board member from Suwalki, Poland. "We need to really come up with some strong projects and we need to team up. That is the whole idea of the Innovation Circle Network; to team up smaller and medium sized places to develop our territories and structures for our needs", explained Alf S. Johansen. The next six months until the ICN workshop in Cesis, Latvia will give all network members the opportunity to develop new project ideas. Let's use the time to continue to create positive changes in society.
You want to get a deeper inside into the subject? Please feel free to download the presentions held during the conference below.
Copriright text & pictures: Christin Schmidt - Innovation Circle Network