It does not happen too often that such a big crowd pours out on the streets of Suwalki to spend some time together eating and drinking and of course listening and dancing to the sound of Blues - and all this without any aggression. People who came to Suwalki were positively surprised that it is such a nice and safe place.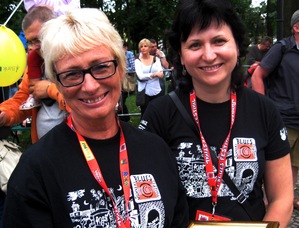 From 14th to 16th of July Suwalki was home of the cities 4th Blues Festival. This year Magda Piskorczyk opened the festival on Thursday evening with a song dedicated to Józef Gajewski, former President of Suwalki City who died on July 25 in 2010. She sang in different languages including African. Beata Kossowska also called "The First lady of Polish Blues Harp" and the United Blues Experience followed. Their performance attracted especially fans from Germany. The star of the first Blues night was vocalist Maggie Bell - once called the English Janis Joplin - together with Dave Kelly.
Part of the festival opening was the awarding of the President's medal for Lise Wiik, Mayor of Notodden in Norway (Picture left: Lise Wiik (l.) together with Ewelina Suchocka). She got the medal for her merits to Suwalki City, a big distinction for her close long-term cooperation with Suwalki.
Of course, there were many more great artists playing in Suwalki, e.g. Martyna Jakubowicz with "Żona Lota" ("Lot's Wife") group. Juwana Jenkins hypnotized the audience with her wonderful voice. At the end of the festival Serbian vocalist and guitarist Ana Popovic hit the stage. This talented woman is also known as the feminine embodiment of Jimi Hendriks. In her songs she refers to Blues roots. "Blues is a woman", T-Bone Walker, a great Blues guitarist and vocalist was singing in the past. So, we should appreciate men at that festival.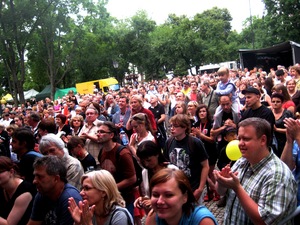 Furthermore, Grzegorz Markowski, a musician who is more assigned to Rock performed with the "Perfect" group in Suwalki. In the city centre "The Blues Band" as well as the impulsive and enchanting "B.B & The Blues Shacks" made the crowd cheering and Shakin' Dudi and Julian Sas introduced the audience to high spirit.
During the three days of the Suwalki Blues Festival over 30 performances were presented at the city centre along with different clubs and pubs. There were 89 accredited journalists and reporters from Poland and abroad including Lithuania, Latvia and Germany. 45 volunteers helped to organize the whole event.
For all those who missed Suwalki Blues Festival 2011: Save the date for next year. And all others: Look forward to the fifth edition of the SBF in July 2012!
And the ones who cannot wait that long: Check out Notodden's Blues Festival.