Bringing dynamics in the High North Area
The Concept of Nordic Business Safari
Practical Business to Business activities between companies in northern Norway, Finland, Sweden and Russia, that is the concept of the Business Safari. By mapping the needs of businesses in Northern Norway, scouting Russian, Swedish and Finnish businesses by sector, new opportunities for business cooperation evolve.
Tweet
This project and Business Safari arrangement are targeting smaller companies in smaller places, but with big impact when B2B activities are adjusted to the local context. The focus is on adding the value to existing activities and cooperation bringing great dynamics in the High North area.
Nordic Business Safari III
The last Nordic Business Safari has been arranged by SIVA International Management around Northern Norway at the end of September. This third edition encompassed three places in Norway's northernmost county Finnmark gathering participants from Norway, Sweden, Finland and Russia. The Business Safari stretched over four days and was tightly stuffed with B2B meeetings and presentations. SIVAIM proved it could work as a matchmaking tool for remote places of Northern Norway. The advantage of Business Safari is that it is designed to serve the needs of smaller companies.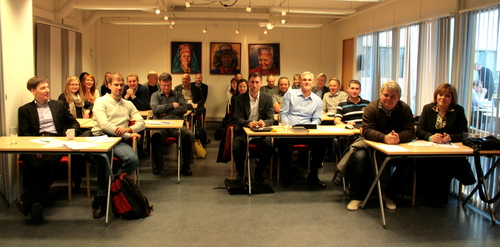 Visiting Hammerfest, Kvalsund and Gamvik
Hammerfest, which is Norway's industrial cluster for oil and gas, was the first stop for Business Safari. With its Snohvit LNG project going on, the town's population continues to increase. About 30 people joined this whole-day event that ended with visits to Hammerfest Maritime Service and Polarbase. The next place was the neighbouring municipality Kvalsund which is historically and geographically linked to Hammerfest. Known for its aquaculture, copper mining and fishing industries, Kvalsund is also seeking to get involved into oil and gas projects. So is Gamvik, which was the next stop of the Business Safari. Fish-rich Gamvik municipality and its central town of Mahamn are longing for bigger projects to come and install a new harbour in the area. Business Safari was organized twice before, but this is the first time that the event included participants from Sweden and Finland strengthening the ties between Nordic countries and generating opportunities for projects and business cooperation in east-west directions across the borders in the northern areas.
Background
Nordic Business Safari is a Nordic cross border project which gathers participants from Norway, Russia, Sweden and Finland. The focus is on practical business to business activities between participating companies. The project is conducted by SIVA International Management (Norwegian state owned/public company dealing with innovation projects) in close collaboration with three municipalities in the northernmost county of Norway.
© SIVA International Management
Updated: 31. October 2012