A tunnel to Finland ?
Tallinn and Helsinki mayors with ambitious plan
Mayor of Tallinn Edgar Savisaar has recently visited Helsinki to discuss with Mayor of Helsinki Jussi Pajunen the building of a railway tunnel between Estonia and Finland. The idea isn't totally new. However, Savisaar and Pajunen discussed a possible rail tunnel, the feasibility study and its financing,
The issue of the Estonian-Finnish rail tunnel has been on the agenda with varied success since the mid-1990s. Savisaar has discussed the issue with the mayor of Helsinki several times in the past few years. Read more at The Baltic Times.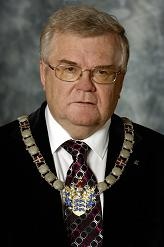 Edgar Savisaar, Mayor of Tallinn
Read more at Tallinn City homepage
Updated: 18. August 2008