The get-together of partners from eight different countries was a success in many ways: Germany is back in the project, all partners presented their achievements and talked about the visions for the future of their towns and project manager Bjørn Frode Moen prepared his audience for the challenges they all have to take in the remaining time.
During a meeting of the Steering Committee on Wednesday all participants agreed on a resolution paper according to the withdrawal of the Regional Planning Authority Havelland-Fläming and the win of the city of Trebbin as a new TiF-partner. Thomas Berger, Trebbin's Mayor was eager to substitute Havelland-Fläming and to take over as a new partner and representative not only for the Havelland-Flämimg region but also as a representative for the whole of Germany. Berger came to Krakow to take part in the conference and to sign the documents that finally set a happy end to this issue. The German newspapers Märkische Allgemeine Zeitung and Brandenburger Wochenblatt reported about the new partnership agreement.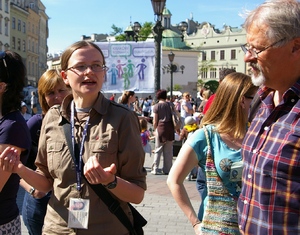 On Thursday the 50 participants took part in a conference in the Krakow municipality hall where all partners presented the achievements they made in the recent year. Indre Kreivyte, Information and PR coordinator for the TiF-project, together with communication manager Alf S. Johansen summed up in a very entertaining presentation what the TiF-partners have accomplished after working together for one year. By telling the fairy tale of the Trans in Form kingdom they pointed out what the king as well as the princes and princesses and the knights have done so far but also which challenges they still have to face in the time to come.
Then achievements in all five work packages (management, communicationa & information, scenario planning, new narratives and story telling as well investments and technical documentation) were presented by all TiF-partners. "The hard part is to make a project transnational, to think outside the square", so the king of Trans in Form, project manager Bjørn Frode Moen from Notodden (Norway). "Ask the questions you stopped asking a long time ago", Moen called upon his audience and continued: "There is no European identity, but we have a lot of national identities", a fact that brings advantages as well as disadvantages. To be aware of that and to take the benefits that a transnational project offers is the task now. One year is left to fight together for more livable, competitive and more attractive communities.
Pictures: Alf S. Johansen & Christin Schmidt