Tweet
The Mediterranean Centre of the Environment and APARE organize together a program of Euro-Mediterranean rural development. Both organizations are non-governmental partners based in France. As sister associations, they specialize in the protection and sustainable development of European natural and cultural heritage by offering young people the chance to take part in three week local development projects.
As volunteers, the young people help out a local community and gain valuable experience while they enjoy a cultural adventure with other like-minded young people from throughout Europe and the Mediterranean.
Young people, students and young professionals between 18 and 30 years from Northern Europe, especially Scandinavia and the Baltic countries, are welcome to take part in the campuses offered this summer. The campus themes range from ecotourism, marketing of local products, natural hazards, heritage and tourism, landscapes as well as the sustainable development of European coastline and will take place in Armenia, France, Greece, Italy, Majorca, Morocco, Scotland and Tunisia.
Campuses in Achaia (Greece), Corsica and the Baronnies Provencales (France) focus on new ways of marketing local agricultural products such as fruits, wine and olive oil - a topic that should be very interesting for young people studying marketing, business development, economics or commerce. On-line registration for the campuses can be found at www.cme-cpie84.org. Details on the full program of all 13 campuses will be added soon.
The concept of the European-Mediterranean campuses is similar to the one of the Innovation Circle Network summer camps. This year's ICN summer camp European Cities of Tomorrow will be organized together with Planning Aid for Scotland from 12th to 17th of August in Benmore Outdoor Centre, Dunoon, Scotland and aims to increase participants' openness to the demands placed on an increasingly multicultural society.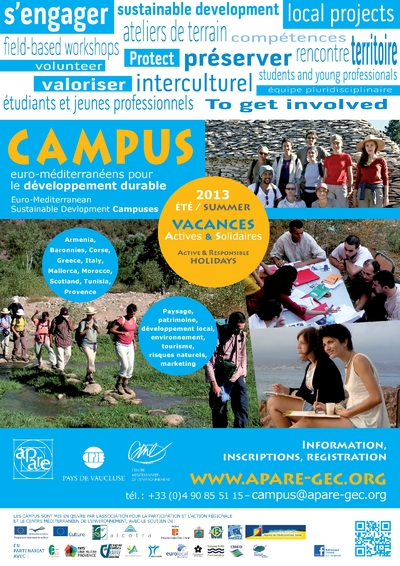 Background
Euro-Mediterranean campuses are multi-disciplinary, international study workshops aimed at serving a specific territory. They involve around fifteen students or young professionals from Europe and Mediterranean countries.
In the past, campuses were organised by the 'Groupement Européen des Campus' but are now under the responsibility of the CME (on themes relating to the environment, biodiversity protection, eco-tourism, and natural hazard prevention) and by its partner association, the APARE (on themes related to the protection and development of heritage sites).
Campuses began some twenty years ago with the aim of encouraging young volunteers to participate in local sustainable development initiatives. They were based around three simple ideas: learning skills, community service and intercultural adventure.
The Campuses call on volunteers to contribute their expertise and experience. They are both workshops to prepare for professional life and field laboratories for the development of the local host territories. With the support of specialists and professionals in the field, participants are confronted with a heritage or environment issue, to which they must propose solutions.
And what is all this for?
Here are a few examples of the achievements of a campus:
• Survey of a territory or site
• Tourism management plan for a natural site or a feature of tourist interest
• Educational tools relating to natural hazards: exhibitions, role-playing games, simulations • Teaching materials for an eco-museum, a discovery trail
• Walker's topographical guide
• Plans for the installation of an eco-museum
• Communication tools: Website, collection of filmed testimonies, exhibition.
All campuses target students and young professionals from Europe and the Mediterranean region, bridging numerous disciplines: architecture, art history, local development, environment, tourism, geography, communication, graphics, photography, social sciences, hydraulics, natural hazards, cultural mediation, landscaping, etc.
What do Euro-Mediterranean campuses offer?
For participants:
• An introduction to a professional work situation with the expectation of a useful, objective result
• An opportunity for learning to work in a multidisciplinary team
• An original way of discovering a country and a culture.
For local participants:
• Engineering assistance, with the advantage of a fresh exterior vision
• The possibility of starting, stimulating or re-launching a local project
• The opportunity to communicate with the local population on a particular project
• An open door to Europe and the Mediterranean.
The majority of campuses benefit from various forms of financial support from public funds (Europe, national governments, regional authorities, local authorities) or private foundations.