Establishing an efficient trans-European transport network (TEN-T) has constituted a key element in the relaunched Lisbon Strategy for competitiveness and employment in Europe and will play an equally central role in the attainment of the objectives of the Europe 2020 Strategy. The cost of EU infrastructure development to match the demand for transport has been estimated at over € 1.5 trillion for 2010-2030.
White Paper on EU transport ambitions

Modern and competitive infr
astr
ucture across Europe is a must if Europe should manage to compete with other parts of the world where heavy investmenst are made into cutting edge transport technology. It´s especially important for regions away from the bigger metropolitan areas to be connected to those networks in order to attract and retain investments and jobs. Reality shows that even smaller and remote towns can benefit greatly from high speed railways and other infrastructure when connected.
The White Paper
describing EU´s transport strategy towards 2050 shows an ambition for changing how transport works across Europe. Aviation, railroads, roads and seaways are all influenced and expected to change. More cargo and people on faster railroads and less emissions from cars and planes is paramount. Multimodal is now the now the new buzz word. Traffic hubs should be planned and built to facilitate multiple transport systems. According to the White Paper there will be no carbon fuelled cars allowed in the European cities after some years.
IC conference 29-30 November 2012(at trade fair "Siauliai 2012") will focus on transport. The aim of the IC conference is to raise awareness about the political strategies and discuss how the regions "outside the Pentagon of Europe" can cooperate and exploit funds and technolgy for the benefit of their citizens and enterprises. IC network would like to promote and trigger the interest for investments into effective and sustainable infrastructure across the Northern Europe.
TEN-T
The 10th September 2012 EU
announced
another 200 mill. € grant package to a variety of projects within the Ten-T.
Trans-European Transport Networks
.

There are 30 priority projects which Ten-T Executive Agency is working on. We will here present 3 of them very briefly.
---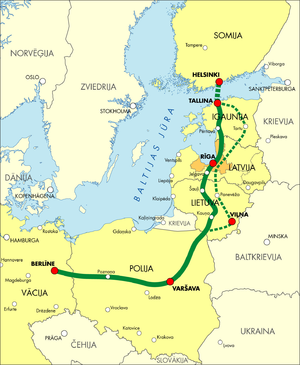 Rail Baltica

is supposed to link

Finland, the Baltic States and Poland and also improve the connection between Central and Eastern Europe and Germany. It envisages a continuous rail link from Tallinn (Estonia), to Warsaw (Poland), going via Riga (Latvia) and Kaunas (Lithuania). It will by-pass the Kaliningrad Oblast (Russia) and Hrodno (
Belarus
) where the two historic rail routes Poland-Lithuania have been going.
The section from Helsinki to Tallinn will be operated by existing commercial ferries. In the future

a proposed
Helsinki to Tallinn Tunnel
could provide a rail link between the two cities. The length of the railway between Tallinn and Warsaw will be at least 950 kilometres (590 mi).

Rail Baltica could be a sustainable sound alternative to the planned
Via Baltica
motorway which has proved controversial on environmental grounds.
Fehmarn belt is another priority project(PP 20).

This axis, an extension of the Øresund fixed link (
PP11
) and the Nordic Triangle road and rail links (
PP12
), is a key component in the main north
-south route between central Europe and the Nordic countries. It involves the construction of a bridge or a tunnel in order to form a fixed road and rail link, spanning the 19 km wide Fehmarn Strait between Germany and Denmark. It also includes improvements to related rail links in Denmark and Germany.
The project will provide an alternative for the ferry link between Rødby (Denmark) and Puttgarden on the Fehmarn Island in Germany. It is expected to stimulate economic development in the Baltic Sea regions of Denmark and Germany. Once completed, it will attract passenger and freight traffic estimated at 3.3 million vehicles and 30-35,000 trains a year, helping to relieve congestion on the Great Belt route across Denmark, and
in particular on the rail network. After the completion of the project, the travel time between Copenhagen and Hamburg will be reduced by approximately one hour and travel times for freight transport will be reduced by two hours.
The Nordic Triangle links the Nordic countries of Sweden and Finland and their capitals to each other and improves passengerand freight transport from the region to central Europe, the Baltic countries, and Russia. The multimodal scheme involves the upgrading road, rail and maritime infrastructures in both countries. The Nordic Triangle in Sweden extends to include Øresund fixed link (
PP11
). Interesting to notice for Norwegians is that Norway is not a part of the priority. To be discussed is how Norway can become integrated with the EU strategies.