When you get the Blues
Notodden celebrated with 40.000 visitors
One cannot deny that a slightly bluesy feeling grips you when you sit on the bus from Notodden to Oslo after days full of Blues, happiness and sunshine. But at least the two hours in the TIMEkspressen gives you time to recall Norway's biggest Bluesfestival.
About 40.000 people had made their way to Notodden, about two hours southwest of Norway's capital Oslo to celebrate the 25th anniversary of the Blues Festival. True to the motto "A Whole Lotta Blues" the organizers presented a packed line-up with a fine selection of Blues music. After a rainy start on Thursday night the sun showed up and for three days thousands of happy people populated the bars, streets, squares and even roof tops in Notodden. As usually Blues lovers used the town's green spots to built up their tents.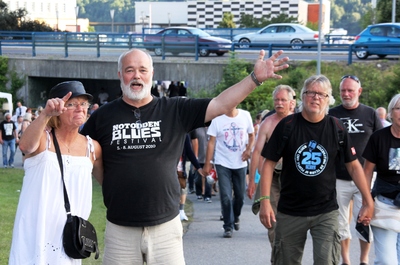 One of this year's highlights was the concert of two bearded old men and their drummer. Headliner ZZ Top attracted 10.000 spectators who witnessed the final concert of the trio's European tour. But of course, the guys from Texas where not the only musical highlight. Norway's Blues Lady Rita Engedal had opened this year's edition with her catchy song "He walked away". Also very impressive was the Ruthy Foster's show. She played even three times at the festival including an acoustic set at the church. Paul Rodgers, Jarle Bernhoft, Jonny Land and The Fabulous Thunderbirds – they all made the crowd cheer.
The 25th anniversary of the festival was also the perfect occasion to unveil the first international marker of the Blues Trail. Mississippi has erected more than 150 Blues Trail markers to highlight the music and its influence on Mississippi. The Notodden Blues Festival has hosted dozens of artists from Mississippi including B.B. King, Otis Rush, Bo Diddley and many more. Since 1996 Notodden and Clarksdale, Miss. are sister cities with cultural exchanges including performances by Norwegian artists at Clarksdale's annual Sunflower River Blues and Gospel Festival.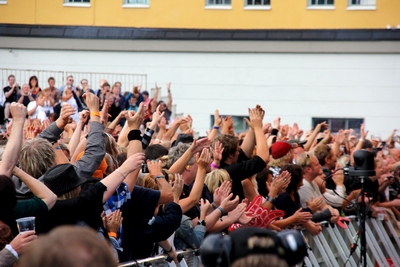 Among many visitors was also a delegation from Notodden's sister city Suwalki in Poland who has made its way to the Blues celebration far up north. Marcin Bonislawski, representative of Suwalki city explained that he enjoyed his first trip to Norway very much. The visit to Notodden impressed him as he stated: "It has been a fantastic event".
On Sunday when most blues lovers already felt the celebrating in their bones Rita Engedal served once again "He walked away" and set the final point to a great and bluesy 25th anniversary.
Pictures: Christin Schmidt
On the rooftop.jpg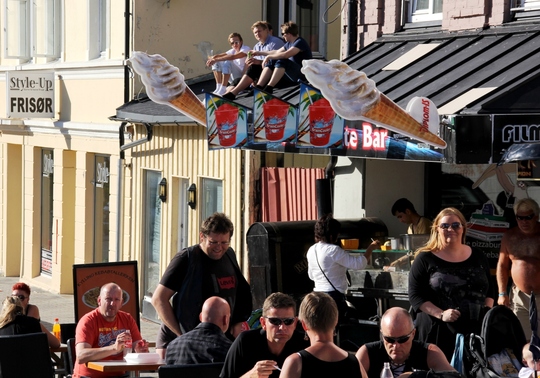 Oppdatert: 18. August 2012