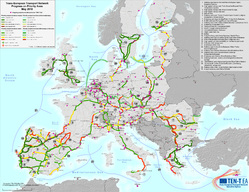 REGIONS OF TOMORROW
The EU holds a key to the future for European regions. Therefore the conference will focus on the new EU programs coming up for 2014-2020 and the EU transport strategies. There will also be presentations of relevant projects, best practices and the chances to discuss new ideas and projects.
AIM AND CONTENT: To raise awareness about EU strategies and new opportunities for regional development. Read more: Background article on transport strategies
DOWNLOAD PROGRAM:Annual ICN Conference - Siauliai 2012.pdf
REGISTRATION: Fill in registration form at the bottom of this page !
PRICES: The prices for participation are as follows:
Full conference package including all meals and 2 hotel nights in standard room (29 Nov-1th December) : 350 euro

For limited packages or other arrangements, please contact the

organizer by email.
This year we wil offer a 40% discount on the full conference package for particpants from Lithuania, Latvia, Estonia, Poland, Russia and Belarus.
Please register before 1th November.
The aim of the IC conference is to raise awareness about the political strategies and discuss how the regions "outside the Pentagon of Europe" can cooperate and exploit funds and technolgy for the benefit of their citizens and enterprises. IC network would like to promote and trigger the interest for investments into effective and sustainable infrastructure across the Northern Europe.
---
The conference will focus on the EU programme period 2014-2020 and explore which priorites and options there are for new initiatives. Finally the conference will also offer the chance for partners to present and discuss best practices from previous projects and new project ideas.
---
ABOUT THE TRADE FAIR
Partners are encouraged to bring stands or other materials for the exhibition. It can be done by having own stands or by using the IC network´s stand as a facility for presenting your region, city, school or business etc. Members of the IC network and others who are interested in the topics are warmly welcome to take part in the event.
Especially we would like to offer the idea to bring students or other young people who could work at the stands. This is also an opportunity for them to learn about how international business exhibitions are made and to connect with each other.
If you like to join the IC network stand with some brochures etc. please contact organizer by email
Any other practical questions about the trade fair, can also be directed directly to "Siaulai 2012". Here is the link to the Siauliai trade fair:

This year the exhibition focuses on three aspects of sustainable development: energy, ecology, economy. All IC partners all welcome to take part with own stands.
The IC network will also have a separate stand where it´s possible for partners to team up and hand out information.