Storytelling at its best
How a small German town benefits from TiF project
Within the TiF project a lot of good ideas for rural town marketing arise. One of them is the the name sameness concept - an idea that uses name sameness to arouse people's curiosity for rural towns. Although the withdrawal of the Havelland-Fläming Planning Region from TiF seemed to be the end for the idea a small German town is now about to achieve first results.
Thanks to Torsten Naubert, former German coordinator for the Trans in Form project, the name sameness idea did not die completely. If anything Naubert managed in his spare time to implement the name sameness marketing idea for Niemegk, a town of 2.100 inhabitants in Germany's federal state Brandenburg, southwest of the capital Berlin. He invited people from Berlin who live in a street named after the small Brandenburg town. He wrote invitations to about 600 households living in "Niemegker Straße" including facts about Niemegk, a letter of the town's Mayor Eckhard Zorn as well as a flyer promoting the celebration for the town's 850th anniversary on the first weekend of June. Furthermore Naubert put up a poster with the festival program and a picture of Niemegk's marketplace in every entrance.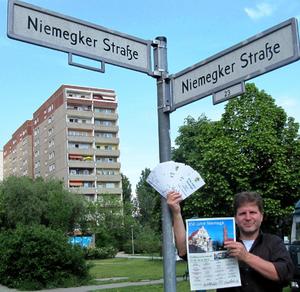 Naubert realized that in a stretch of road of about 100 meters in length there live about 1.100 inhabitants in "Niemegker Straße" in Berlin. To reach that many people in Niemegk you would have to walk three kilometers. "While I delivered the invitations I got to talk to Berlin inhabitants and I could detect some additional parallels. Most surprising was a talk with a young man with the family name Nickel. He told me about his grandfather who worked as a tailor in Niemegk and I could add: Yes, and today we call a part of the town Nickel's corner. Furthermore there lives a family with the same surname as Niemegk's Mayor. I was surprised by all the different relations you can build up", stated Naubert.
The active and creative man has already new plans on his hands. In autumn he wants to invite people from Berlin to discover rural areas outside the capital. He wants to combine a tourism event, organized by the public transport association of Berlin, with a contest. First price could be a weekend in Niemegk including a city tour, dinner and overnight stay. "This way, citizens of Niemegk Street who do not have a car - about 50 percent of all Berlin households - will get the possibility to visit rural areas. And by introducing a contest we manage to get feedback about the number of visitors from Niemegk street", explained Naubert.
The former TiF coordinator pointed out that "even if Havelland-Fläming had to drop out, the TiF project has influenced participated rural town thinking substantially."
Pictures: Torsten Naubert went to Berlin to invite citizens who live in "Niemegker Straße" to visit the town's 850th anyversary celebration.

Oppdatert: 29. June 2011