Using design to drive development
Cliff Hague's BLOG
Summer has been late arriving in Chicago this year, but Millennium Park draws crowds all the year round. It's a public space right in the heart of the city that undoubtedly works. Chicago's citizens seem to have forgiven the fact that it was millions of dollars over budget and not completed until 2004, after almost seven years of construction.
Millennium Park is a multimillion dollar renovation and revitalization of around 10 hectares right in the city centre. Previously the land had long been rail tracks, car parks and locomotive yards.
Millennium Park was a central element of Mayor Richard M. Daley's plan to renovate the shore of Lake Michigan as a tourist and leisure landscape right in the downtown easily accessible from the Lake Michigan shorefront. Millennium Park was more than just a park. It included new transport facilities: an underground car park, bicycle storage amenities and a commuter rail station. New fountains designed by Jaume Plensa catch the eye and draw toddlers and teens to paddle or try to dodge the drenching you get if you stand in the wrong place at the wrong time. Then there is the massive stainless steel sculpture entitled 'Cloud Gate' by Anish Kapoor. It is like a kidney bean shape and so locals have called it The Bean' – nickname that soon became shorthand for Millennium Park as a whole. A further top-class piece of design that works is the concert performance area and footbridge designed by Frank Gehry. This is a 1500-seat theatre built deep into the ground, with its entrance at street level. All of these are connected by walkways, gardens and plantings.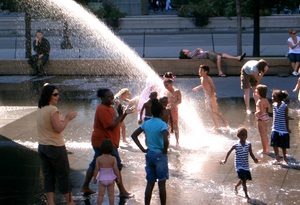 A public-private partnership
Millennium Park was a public-private partnership. Public finances, including around $95million from Chicago's Central Loop Tax Increment Financing district, were supplemented by gifts from wealthy local patrons and corporate sponsorships. The land was in public ownership. But much of the park was paid for by corporate and foundation donations. There is extensive sponsorship of the spaces by the private sector. For example, there is the BP footbridge. Sections can be closed off and rented out for private events, and there are private security guards on patrol.
This major project was intended to stimulate the real estate market in central Chicago. In particular, it was intended to act as a catalyst for the nascent trend of converting city centre commercial office space into high priced flats and condominiums. It would also help to promote Chicago to international investors, and so boost the city's tax income. Such investments did indeed follow, from both local and international property developers and speculators and Millennium Park has indeed become a major tourist attraction. Millennium Park has become an icon of the 'new' Chicago, a city once famous for its role as the abattoir for the Mid-West meat industry. Now Millennium Park projects Chicago as a global city of consumption, a smart place to live, though, as for any big city, this obscures the city's "other face", and poverty neighbourhoods.
Thus the development of Millennium Park is an example of an approach to urban regeneration that thrived in the years when property markets were strong. Bilbao earlier transformed run down industrial areas along the Nervión river into a tourist-friendly entertainment centre including contributions by internationally famous architects Santiago Calatrava, Norman Foster and Frank Gehry. Many other urban redevelopment projects have similarly transformed fading industrial landscapes into entertainment and leisure complexes, such as Baltimore's inner harbour, San Francisco's Fisherman's Wharf and Pier 39, or Manchester's Salford Quays along the Manchester Ship Canal. While confidence in rising property values remains badly dented by the financial crash of 2008, we are not likely to see many projects on this scale for some time. All the more reason to get out in the Chicago sunshine and enjoy what Millennium Park has to offer.
Millennium Park is one of over 70 short case studies of economic development approaches from all over the world that are featured in Cliff Hague's latest book "Regional and Local Economic Development". The co-authors are Euan Hague and Carrie Breitbach, and the publisher is Palgrave Macmillan. The book is published in June 2011.
For more interesting stories from Cliff Hague please visit his new "World View" blog on www.CliffHague.wordpress.com also accessible from www.planningresource.co.uk. Or follow Cliff and ICN on twitter.
Oppdatert: 06. June 2011