Finally, after years of discussions pro et contra a dream will come true. On March 10th Notodden's Mayor Lise Wiik together with 29 other politicians casted their ballot to build the Culture House of Books and Blues. Only 12 politicians voted against the new cultural institution. The foundation stone will be laid down at Notodden Blues Festival in August this year.
The Culture House will be the city's new Library and the location of the Municipal Culture School. In addition it will be the centre of Notoddens Blues Festival and the European Blues Union in Norway. There will be the analogue Juke Joint Studio, two cinemas as well as The Blues Museum and a lot of other culture related activities. Furthermore, a tourist information for Notodden and Telemark and a restaurant will be included.
The Culture House will also offer the possibility to get to the waterfront. For 80 years this part was an industrial area with no public access. The challenge know - within Trans in Form – is to link the historic city centre to an emerging new centre by the lake. The Culture House will be opened in 2013 as a gift to Notodden's 100th anniversary as a city.
The Culture House is a joint effort where The Ministry Culture and Telemark County Council are the most important partners. The total price will be 20 million Euros. Notodden municipality will contribute with about 12 million Euros.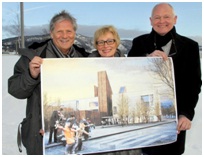 Reidar Solberg, Head of the Committee for Culture and City Development, Lise Wiik, Mayor and Håvard Bakka, Head of the Committee for Technical services and Community Development.