On the Bridge k.jpg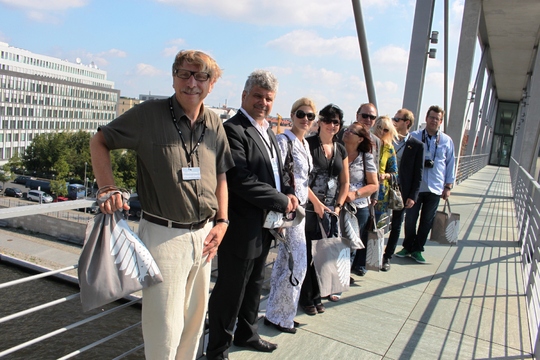 Sun, smiling people, an interesting program and a charming city – perfect conditions for an Innovation Circle Board Meeting. Last Sunday Alf s. Johansen, General Secretary, and Rita Merca, Chairwoman of the board welcomed four Board Members as well as Feliksas Dziautas, Mayor of Alytus (Lithuania), together with Jurgita Šukevičienė, from the foreign affairs department of Alytus in Berlin. Also 24 year old Anders Sølve Strand from Norway, one of IC youngest and most active members, took part. The event was hosted by IC web editor Christin Schmidt.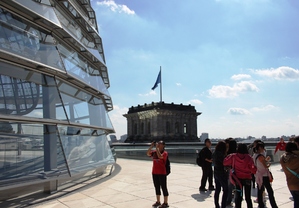 Visiting Germany's political headquarters
The IC team used their stay in Germany's capital for a guided tour in the Bundestag, a unique and entertaining experience. At Andrea Wicklein's invitation the international IC delegation was welcomed by Wolfgang Friedemann Eckstein, a historian who works for Wicklein (SPD and member of the German parliament). Eckstein led them through every floor - from basement to the very top of the famous glass dome. In a two hour tour Eckstein talked about German history, art and politics. He managed to combine the history of the building with the history of the country. The IC members were amazed by the amazing art collection but also by the building's enormous dimension.
New ideas for the future
Besides an inspiring tour in Germany's political headquarters the Board Members discussed the latest issues of the network: evaluation of the IC Youth Summer Camp, ideas for new projects, planning of the annual conference as well as plans for the IC Network development in a European perspective.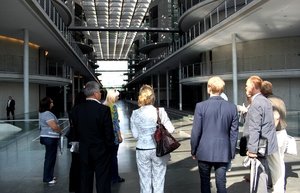 Anders S. Strand gave a report about this year's IC Summer Youth Camp that recently took place in Ørje in Marker Municipality (Norway). Showing some pictures Strand summed up the IC project as a successful event with about 60 young attendees from eight different countries. It was the first Camp that took place in Norway and it was also the first time that youth from another continent took part, four girls and boys from Ethiopia contributed their ideas and spirit.
Furthermore, the board members talked about the annual IC conference and decided to organize the event in Jurmala (Latvia) from 8th to 9th December 2011. It will take place in cooperation with the Trans in Form project. The preliminary theme is "Europe in Transformation - what is the future for communities and cities in rural regions?". The program of the event as well as an application form will be published soon on this webpage. Professor Emeritus Cliff Hague (Herriot Watt University), one of the most active academicians within the IC Network and also within the Commonwealth Association of Planners, will participate in event in Jurmala. His blogs are read worldwide. In his newest book, "Regional and Local Economic Development", he presents a range of good examples for regional and local economic development. So, look forward to Jurmala.