The IC Summer Camp 2011 was opened Friday afternoon by Mayor Stein Eirik Lauvås. He welcomed everyone to Marker Municipality and Indre Østfold Region and underlined the need for youth involvement in politics. Lauvås pointed out that how happy he was to host the international youth camp.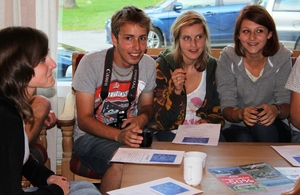 In memory of the victims of 22 July attacks there was a moment of silence. Cynthia Clark from Canada helped breaking the ice and made everyone to express their fears and dreams. Some dreams were also written down and put into the "Dream Box". Alf Johansen, general secretary of the IC Network, pointed out that there are two reasons why IC network is organising Summer Camps for young people every year: "One is to give individuals from smaller places in Europe the chance to learn from leading experts, meet and team up internationally. The second reason is to bring some new ideas and inspiration back home to the local communities."
To give the juveniles a broad perspective on politics and EU issues the ICN team invited many different guests from youth associations, political parties, embassies and other organizations. Everyday there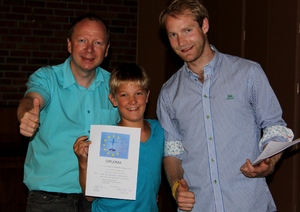 was a new theme according to which the boys and girls joined to team up in workshops, debates or presentations. The Saturday program for example was headlined with "Business, Politics and Equality". Therefore Director Rolf Gulbrandsen from Norwegian Enterprises (NHO) presented how the EEA agreement works for Norwegian businesses and especially for the food and beverage industries. Furthermore Tonje S. Johansen and Tymon Bugajski from the Delegation of the European Union to Norway visited the Camp on Monday to talk about the EU in general; Norways role in the EU and also to hold a workshop "Youth and Europe".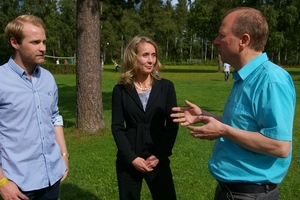 One of the most inspiring presentations was held by Kenneth Sydhagen, founder of the Young Ambassadors in Norway. The enthusiastic young man explained why young people can and should make a difference. "The 22nd of July changed Norway", Sydhagen stated. It even had changed his speech for the ICN Summer Camp. He was about to put down his words when the bomb exploded in Oslo's city center. "I felt sad and lost. Everything lost its meaning." But after the shock he realized that it is even more important now than ever to make a change. He invited the boys and girls to take action. "We are the generation that makes a difference."
Also impressed by the juveniles and their enthusiasm for political issues was Monica Slakey, Political and Economic Officer of the U.S. Embassy to Norway. Before Slakey hold her exploratory presentation she offered her condolences and with deepest sympathy expressed her feelings about the attacks. After she talked about Norway's and the EU relationship with the U.S. she was willed to answer all questions of her young listeners.
Now, four days full of excitement, fun, hot debates, challenging workshops and interesting presentations are over. The attendees from Norway, Sweden, Lithuania, Poland, Russia, Latvia, Ethiopia and UK went back home, all packed with lots of memories, new experiences and ideas that they can share with the people in their communities. "I know what politics can be now, I got a completely new perspective", said 18 year old Iga from Suwalki / Poland. Besides meeting many new friends she also brushed up her English and Russian skills, explained Iga.
"The youth had always very bright questions for the speakers, they were active and showed that the future of Europe is in good hands, but we need to keep up the work with connecting and develop the minds of the young and bright."